Printing hang tags

Thiết kế miễn phí

Khuyến mại liên tục

Giá cả cạnh tranh

Giao hàng miễn phí

In nhanh trong 2 giờ

Dịch vụ tận tâm
Mô tả sản phẩm
The tag is an essential element of a product, as it serves as a way to identify the item, display its price and provide additional information such as care instructions or the brand logo. In this article, we will provide all you need to know about printing hang tags.
1, What are hang tags?
Hang tags are an essential marketing tool for companies that produce and sell products. They are small, rectangular or square pieces of paper, cardboard or plastic that are attached to a product, often displayed on a hanger or loop, with an information imprint on them. Typically, a hang tag contains information about the product and the company that manufactured and/or distributes it.
Hang tags come in a wide range of shapes, sizes, colors, and finishes, depending on their intended use and the industry they are associated with. Some common types of hang tags include Apparel Hang Tags, Jewelry Hang Tags, Luggage Tags, Bookmarks, and Product Tags, among others. 
2, Benefits of hang tags
Hang tags can serve a variety of purposes, from providing product details and care instructions, to establishing branding and product identity, to offering promotional discounts and coupons. Some of the common purposes that hang tags serve are:
2.1. Product Information: One of the primary purposes of hang tags is to provide customers with important information about the product. This can include details about the materials used, care instructions or washing guidelines, safety warnings, and other relevant product information. This essential information can help customers make informed purchasing decisions.
2.2. Brand Identity: Hang tags can be an effective way to establish a brand identity and create brand recognition. By incorporating a company's logo, colors, or signature design elements into an eye-catching hang tag, customers can associate these elements with the brand.
2.3. Marketing Tools: Hang tags can also be used as a marketing tool to promote sales and increase brand awareness. Companies can use hang tags to offer discounts, coupons, or promo codes to customers, incentivizing purchases and boosting sales.
2.4. Differentiation: With so many products on the market, it's vital for companies to differentiate themselves from their competitors. A well-designed hang tag can set a product apart from its competitors and draw attention to its unique selling points.
2.5. Sustainability: Many companies are opting for eco-friendly hang tags made from recycled materials, as a way to align with sustainable values and appeal to environmentally conscious customers.
3, Types of Hang Tags
There are several types of hang tags that you can print, each with specific features and purposes. Below are some of the most common types of hang tags you can choose from:
3.1. Basic Hang Tags
These are the most basic hang tags that are used for clothing and fashion items. They usually contain the item's name, size, and price.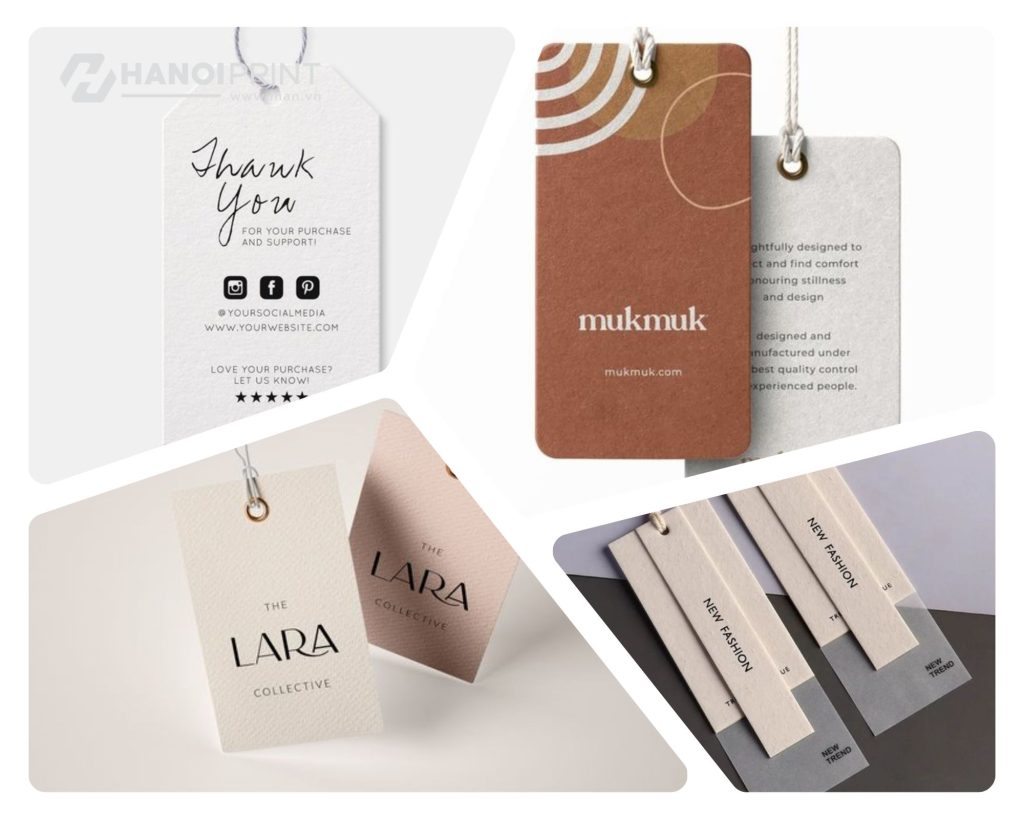 3.2. Folded Hang Tags
Folded hang tags are typically used for high-end fashion items. They have a unique design that features multiple fold sections with images, brand logos, or additional information.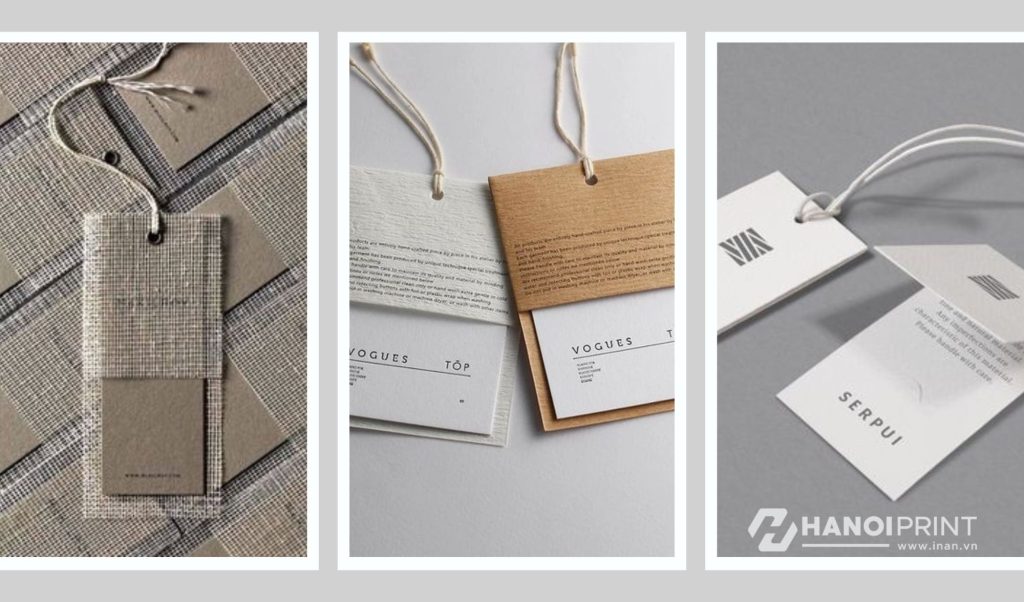 3.3. Die-Cut Hang Tags
Die-cut hang tags have an intricate cut-out design that adds a unique and beautiful touch to any product. They can be created in any shape or style.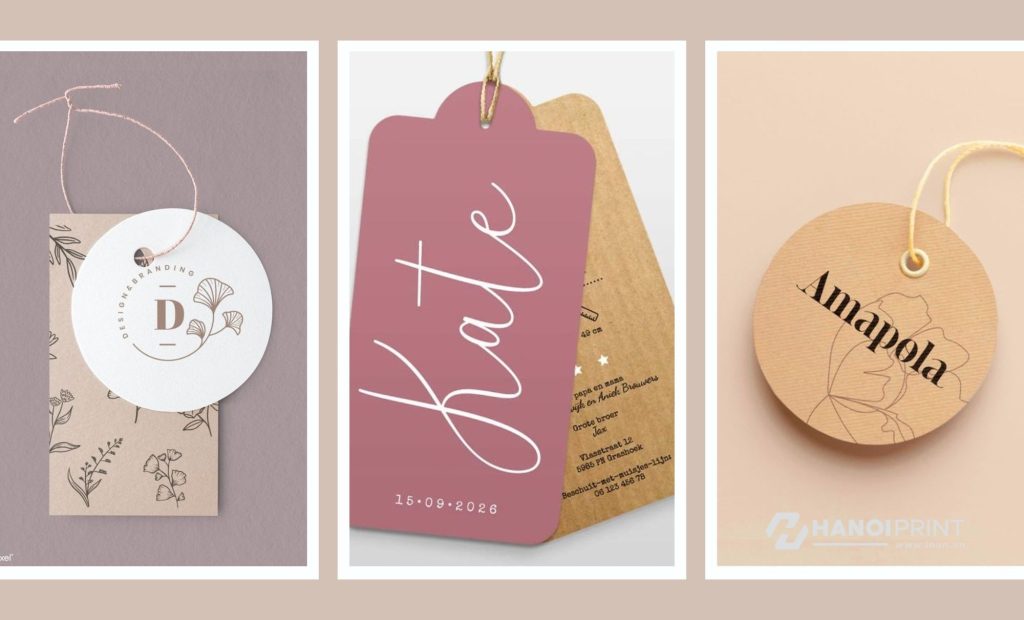 3.4. Specialty Hang Tags
Specialty hang tags are usually designed for specific products. For instance, they may include instructions on how to use the product, warnings or product specifications. 
4, Printing Techniques for Hang Tags
Once you have settled on the type of hang tag you want, the next step is printing. Here are some of the most common printing methods that you can use to create your hang tags:
4.1. Offset Printing
Offset printing is the most frequently used printing method for hang tags. It provides high-quality prints with a wide assortment of colors, and it also produces an accurate representation of the design.
4.2. Digital Printing
Digital printing utilizes high-end digital printing machines to produce high-quality prints with fast turnaround time. It is ideal for low volume or on-demand printing.
4.3. Embossing
Embossing is a printing method that creates a raised design on the paper surface. The effect can be striking, especially when paired with metallic colors.
5, Designing Hang Tags
The design of the hang tag is essential since it serves as the first impression to the customer. Here are some tips on how to make a visually appealing hang tag:
Keep it Simple: Avoid over-designing your tag. Keep it simple and easy to read.

Include Relevant Information Only: Only include necessary information on the tag, such as the product name, size, brand name, price, etc.

Use High-Quality Images: Images are an excellent way to add visual interest to your hang tag. Make sure that the pictures used are high-quality.

Use Consistent Branding: Use colors and typography that are consistent with your brand.

Make it Eye-catching: Use bold fonts and bright colors to make your tag stand out.
6, Some reasons why printing in Hanoi Print
Hanoi Print is proud to be a longtime printing unit in Hanoi. With more than 20 years of experience, design and print production with professional staff, most modern machines on the market today. Besides, Hanoi Print is also a reliable partner of many famous domestic and international enterprises such as EY, Deloitte, PWC, Sunshine Group, … and thousands of customers, shops and startups in Hanoi.
Although there are many units in Hanoi that provide printing services, Hanoi Print is confident to be a printing unit with good print quality, maximum support for businesses, quick execution of orders and special prices. Competition makes it easy for businesses to own a good printing product at a low cost.
We confidently commit to:
Sharp, clear, high quality images

100% quality guarantee

Accept printing in all quantities according to the requirements of customers

Quick consultation, competitive quotation, many attractive incentives

Accept to make according to customer's own design
Please contact us via Hotline/ Zalo: 088.888.6154 for the fastest order!
Quy trình in ấn siêu tốc trong 2H
Việc của bạn là đặt in, tất cả việc còn lại là của chúng tôi

Gửi yêu cầu
Quý khách gửi yêu cầu in ấn đến Hanoi Print qua ĐT, Tin Nhắn, Email, Zalo, Website (Hệ thống báo giá tự động)...Quý khách sẽ được miễn phí tư vấn về thiết kế, vật liệu in, quy cách...

Chốt phương án
Hanoi Print xác nhận lại marquette, in test miễn phí. Quý khách xác nhận, chốt phương án in ấn và số lượng. Chuyển khoản 50% giá trị đơn hàng để xác nhận.

Nhận hàng & kiểm tra (Shipcod toàn quốc)
Hanoi Print giao hàng cho quý khách theo thời gian đã hẹn, Quý khách kiểm tra, ký nhận và thanh toán 50% còn lại.